Award Winners
Here are all the clematis we stock which have achieved the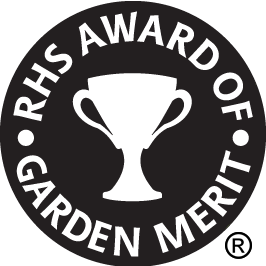 Royal Horticultural Society's Award of Garden Merit.
This award is given to plants that have been submitted to the RHS for trial and proven to be particularly good garden worthy plants under a number of factors, including flowering ability, strength, disease & pest resistance. At Thorncroft we would only select and indeed sell clematis that we believe have these qualities but the AGM is a helpful guide to selecting excellent plants.
Other Awards.
We also now list those plants that have received awards in the horticulture industry more widely including from Top Gardening magazines.
Sometimes the name of publications or their specific endorsement, can't be mentioned for legal reasons and we apologies for this inconvenience.